We love all strudels and one of our favorites is the apple strudel: a flaky, puff pastry jacket enclosing the cinnamon-enhanced, crisp, tart, and aromatic apple filling. It's both light and satisfying with every bite, which is certainly a tough combination to achieve with most foods. Our apple strudel, sweetened with Stevien stevia, makes for a fabulous and healthy dessert.
---
CLASS: Low-sugar | Dessert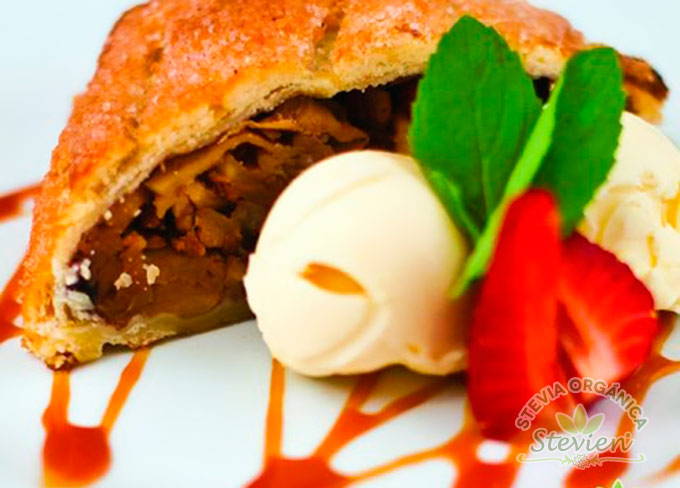 Puff pastry

5 large apples, peeled and thin sliced

1 tablespoon Stevien stevia

1 teaspoon cinnamon

3 tablespoons butter, unsalted

2 tablespoons chopped walnuts, optional

1 beaten egg

1/4 cup raisins, optional
Heat the oven to 375º F.

Peel and slice apples and reserve in bowl with water and lemon juice.

Spread the puff pastry on a floured surface to form a rectangle of 12 by 15 in.

To the apples, add Stevien stevia, cinnamon, raisins, chopped walnuts and butter.

Place the apples over the puff pastry and roll up. Then, seal the edges spreading beaten egg for it to glue well and bend the tips down.

Place it in the oven for about 45 minutes or until golden brown.
*Vanilla ice cream, preferably prepared with Stevien stevia, is the perfect accompaniment to this strudel.
---
Get in touch if you give this dish a try with a comment or rating below and reach out to us on social media anytime!