If one of your favorite treat-yourself activities is to put on a movie, say The Matrix perhaps, and eat your favorite food while watching, WE GET YOU. Usually, those favorite foods tend to high in sugar or otherwise unhealthy ingredients. Well, this lemon pie is very low in sugar, absolutely delicious, and even functionally nutritious (lemon has a plethora of benefits including help with indigestion and high blood pressure). If you're into lemon, give this recipe a try! It won't disappoint.
---
CLASS: Low-sugar | Dessert
SERVES: 8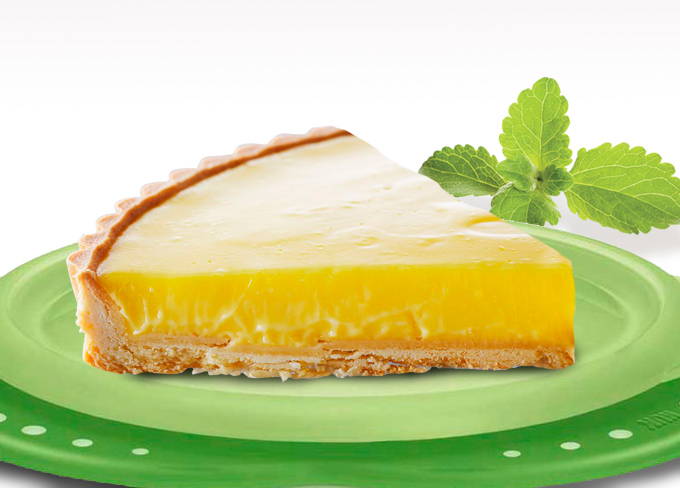 1/2 cup unsalted butter, room temperature

1 1/2 cups flour

1/2 teaspoon Stevien stevia

3 egg yolks

3 tablespoons ice water
Preheat the oven to 350

°

F and grease a 10 inch diameter pan with butter or oil.

To prepare the pie crust: Cut the butter into pieces and combine with flour. Knead this mixture with tips of the fingers for one or two minutes or until the mixture is thin and crumbly.

Add Stevien stevia, egg yolks and enough water to form a consistent paste. Knead well and form a ball.

Wrap the dough in plastic wrap and place in the fridge for about 15 minutes.

Form the dough into the greased pie pan making sure to cover the sides as well.

Bake about 20 to 25 minutes. Let cool. *Note: you will add the lemon filling after this first round of baking and then bake 15 minutes more.

To prepare the lemon filling: Squeeze the lemons into a small pot and add Stevien stevia. Heat on low.

Meanwhile, mix the cornstarch with the cold milk and add to the pot to cook for about 30 seconds or until thickened. Remove from heat and cool.

Add egg yolks and butter, and stir until well blended.

Pour mixture on the semi-baked pie crust and bake for 15 minutes longer.
---
Get in touch if you give this dish a try with a comment or rating below and reach out to us on social media anytime!